A Voice for Youth in Care
Youth in Care Canada exists to voice the opinions and concerns of youth in and from care.
That all young people in and from care across Canada receive standardized, high quality care that meets their diverse needs.

Check out our brand new map of resources across Canada!
There's always something interesting going on at Youth in Care Canada! Visit this page periodically to stay up to date with us!
Welcome to our new Board members Ashley Bach from British Columbia and Johnathan Kopchuk from Manitoba!
To read bios of all of our Board members please visit our Board of Directors page.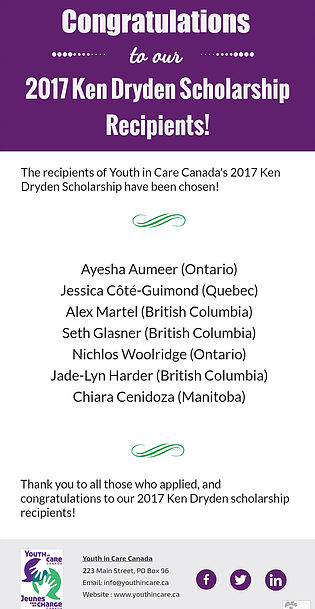 The recipients of our 2017 Ken Dryden Scholarship have been announced! Congratulations to all of you!
Stay tuned for the launch of the 2018 application period coming in February!